DataWorks Powers Through Sandy Outages
February 23, 2016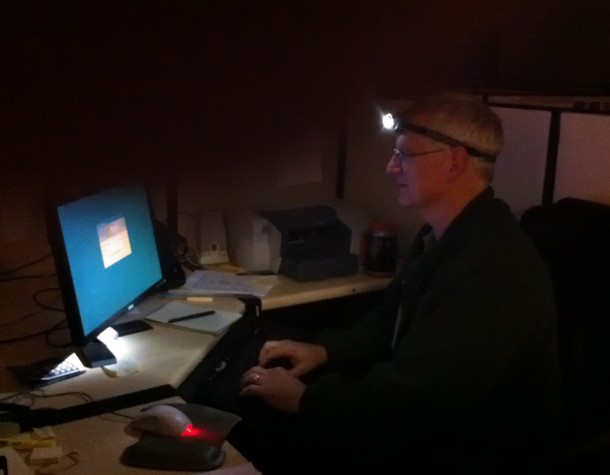 Superstorm Sandy left 300,000 homes and businesses without power in our area, the Lehigh Valley of PA. Due to high wind and flood warnings, DataWorks closed early Monday afternoon so that all staff members could travel home safely. Our power was restored late Wednesday, but phone and internet service remained unreliable due to a problem at a major Verizon hub serving our office park. By the end of the day Thursday, all services were restored and DataWorks resumed full operations.
Scout leader and intrepid DataWorks programmer Bill Gade is always prepared!
We'd like to thank everyone who helped during this difficult time, including:
DataWorks' customers, for their patience as we worked to restore our web- and telephone-dependent services
Dataworks' staff, who all came to work despite power outages and flooding at home, loss of child care, and a host of other inconveniences and fielded calls to our customers' toll-free numbers routed to their cell phones
PPL Electric Utilities, who worked long days and nights and brought in crews from other states to help restore power
Frontier Communications, for working with Verizon to resolve our phone and internet outage
EZ Micro Solutions, for standing by to help restore server functions when needed
Wegmans, for remaining open and having hot coffee and muffins!
While we are glad to have normal functions again here, we know that many other individuals and businesses are facing devastating losses. Our hearts go out to them as they start to recover and rebuild.